Melio's network is a fast-growing directory of national and local vendors– including telecommunication companies, financial institutions, utility services, food & beverage companies, and many more.
Vendors in Melio's network will appear with this verification badge next to their name, so you can quickly identify them:

How do I benefit as a payor?
Vendor discovery- Easily find and pay suppliers.
Pay quickly- No need to collect and save your vendor's bank details. If they're part of the network, you'll pay them in a few simple steps.
Security- Pay through a network of verified suppliers, approved by Melio's risk and compliance teams.
This article will cover how to pay vendors directly from Melio's network in your Contacts. You can also do it when adding a bill or scheduling a payment.
How to pay a vendor in Melio's network
1. Click Vendors in the left sidebar.
2. Click on the + at the top right and then + Add vendor.
3. In Vendor's company name, start typing the name of the vendor you want to pay.
5. Choose the correct match from the dropdown list. Double-check the name and address information.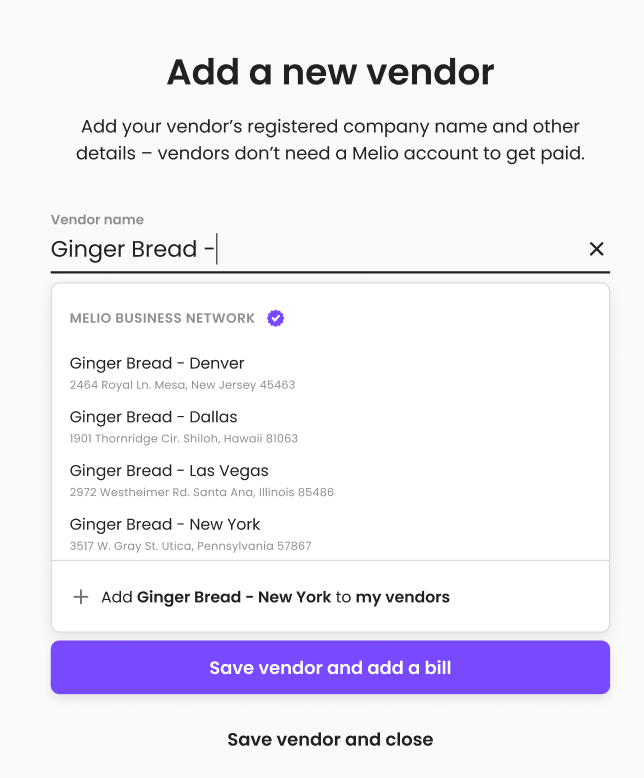 NOTE: Local vendors vs. nationwide billers.
The payment process for local vendors is slightly different from nationwide billers.
Local vendors
You'll see a contact card with the vendor's details.
NOTE: What is a contact card?
The contact card shows that this local vendor is part of the business network, and Melio has verified their details.
It includes:
Vendor's name
Email address
Phone number
Vendor's chosen delivery method
Nationwide billers
For nationwide billers, such as utility companies, you'll need to enter your unique account number.
Tip: You can find this number in the pay-to details on your bill.
6. Click Save vendor and add a bill to schedule a payment to this vendor right now, or Save vendor and close to save this vendor to your contacts and pay them later.
NOTE: Vendors that already exist in your list.
You can't have two vendors with the same name. If the network vendor already exists in your vendors list, you'll be prompted to do one of the following:
Choose to

Continue with X vendor from existing contacts

.

Or, add the verified vendor as a

new

vendor in your contacts.
Since no two vendors can have the same name, you'll need to rename this vendor.
Tip: A simple way to rename the vendor is to add the word "New" to the end of the new vendor's name.