Combine multiple bill payments to the same vendor into a single payment. This allows for easier reconciliation and saves you time and money on transactional fees.
This article shows you how to:
Combine Payments
Go to your Pay inbox and hover over a bill until a checkbox appears.
2. You can now select several bills from one or multiple vendors.
3. Click Continue to scheduling (X) to pay these bills. The number of bills is in brackets.
TIP: Scroll to see a bill's details
On the right side of the screen, you can scroll left or right to see each bill's details. Check the details are correct before scheduling your payments.
4. Next, you'll see a payments table. To combine payments to the same vendor, you can find Multiple payments to same vendor above your table. Toggle on Combine into one.
Note: Default position of toggle is off
Each time you want to pay multiple bills to the same vendor in a single payment, you'll need to toggle on Combine into one.
5. Click Show X bills to see a breakdown of the bills for that vendor and Hide bills to hide them again.
6. Continue to schedule payments as usual.
Help your vendor reconcile combined payments
If you're sending your vendor one payment for several bills, it's important they get an invoice breakdown for easy reconciliation. You can help by making sure you:
Add vendor email
1. A blue i icon will show up if your vendor's email address is missing. Hover over it, then click Add email.
2. Add your vendor's email address and click Save.
Add a memo
You can also add a short note for your vendor which will show up on their confirmation email, either the check itself or their ACH statement.
Note: Memo length
Keep your memo short as only a certain number of characters will show up in a check or statement. The email we send your vendor includes a breakdown of all bills that have been paid.
On the payments table, find the relevant payment and click the memo icon.
2. Leave a memo for your vendor. Click Submit and close.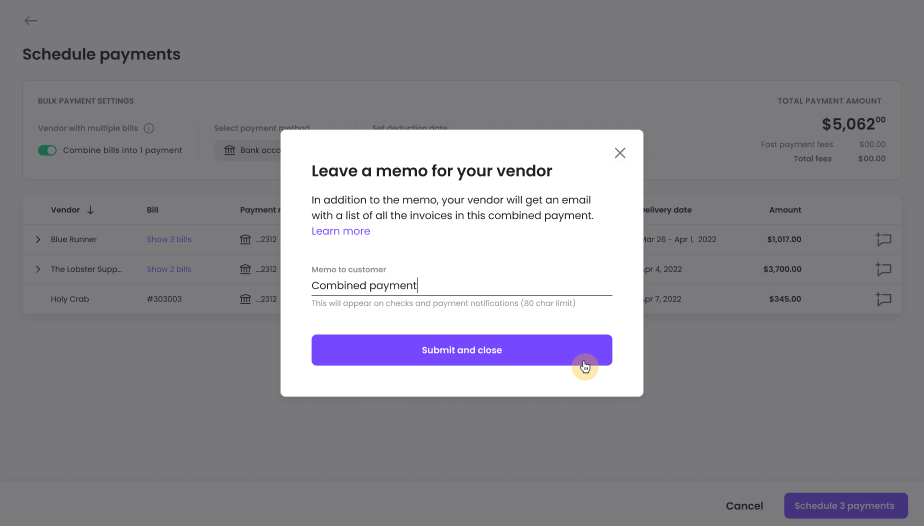 What your vendor will see
For any payment delivery method, your vendor will get an email showing a breakdown of all bills that have been paid: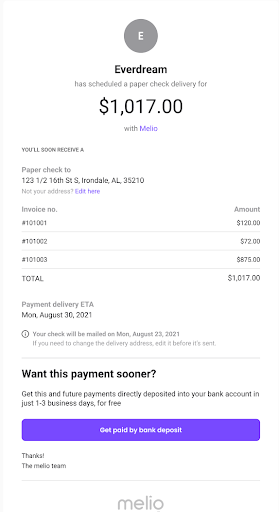 If you paid your vendor with a check, they'll get the check along with a breakdown of all bills that have been paid:
Note: Memo
If you left a message in the memo, this will show up on the check.