Ensure your ACH payment gets to vendors almost immediately. Fast ACH is delivered on the same day it's sent, instead of the regular 3 days for a bank payment.
NOTE: Credit card and debit card are not eligible for fast ACH payment.
ACH delivery using a credit or debit card is delivered the same day. So, you can't select it as a payment method for fast ACH. Learn more about our delivery timeline.
How to make a faster ACH payment
If the payment is eligible for fast ACH, you'll have the option to select it when scheduling your payment deduction date:
1. Sign in to your Melio account.
2. Click Pay in the left sidebar.
3. Add a new payment or select a bill to pay from the list.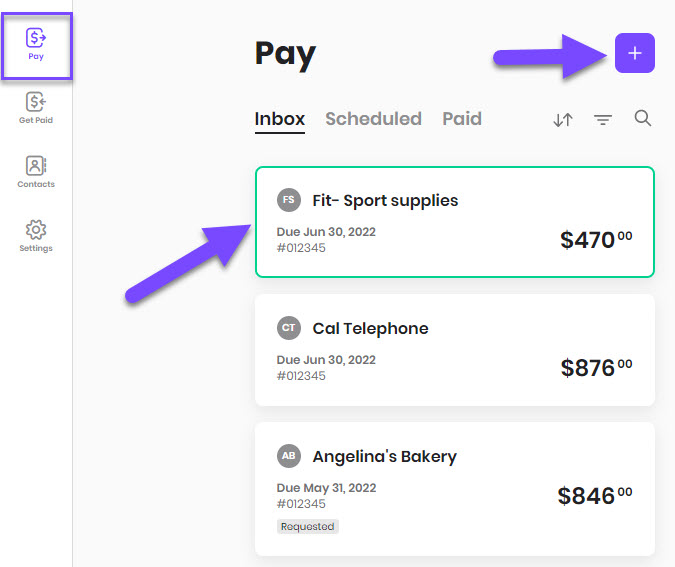 NOTE: New payment?
1. Add a bill manually, upload a file or connect with your QuickBooks account.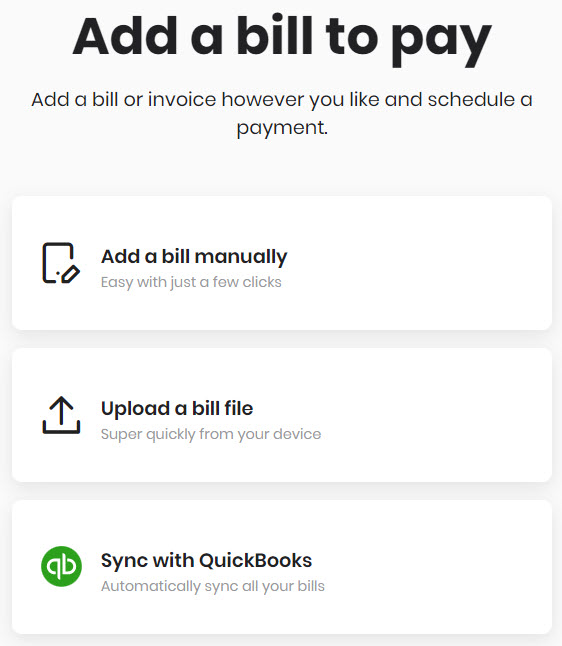 2. Fill in the bill details and click Save and schedule a payment. Some or all of the details will be updated automatically when the bill file was synced from QuickBooks.
NOTE: Selected a bill from the list?
In Bill details on the right, click Schedule payment.
4. Choose to pay via ACH. Click Continue.
5. Select Bank transfer (ACH) when asked how your vendor would like to receive the payment.
6. Fill in the vendor's routing number and bank account number. Click Save bank details.
7. When selecting a date for your payment to be deducted, make sure to check the option Same day delivery (at a 1% fee). Click Continue.
8. (Optional) Leave a memo to your vendor. Click Continue.
NOTE: What to put in the memo?
The invoice number is set as the default.
9. The last step is to confirm and schedule the payment after carefully reviewing the details in the Review & confirm page. Click Confirm and schedule payment to complete the process.
That's it! The Melio team will send you an email summarizing the details of this payment. If your account is connected to your QuickBooks, the payment will be synced and marked as paid there too.
Can I track the status of my fast ACH payment?
Yes you can. Use your Nacha trace number to confirm and track an ACH payment.