With Melio you can pay almost all of your business bills online via ACH bank transfers, debit cards, or credit cards* - even if your vendor only accepts paper checks or bank transfers.
The entire process can be summed up in 3 steps:
2. Choose how you'd like to pay. Bank transfers are completely free. You can also use a debit card or credit card* (2.9% fee) to extend your float and get rewards.
3. Choose how your vendor receives the payment. We pay vendors on your behalf with a bank transfer (ACH) or a mail-delivered paper check, both with your business name clearly displayed.
Is this your first payment?
It might take an extra 3-5 minutes to make the first payment, if you haven't already set up your preferred payment and delivery methods, and entered your legal business information.
How to schedule and pay a bill
There are 3 ways to do it:
Immediately after uploading a bill- skip to step 5.

From your Pay inbox- Your previously uploaded bills appear in the Pay inbox.
Follow these steps to make a payment from your Pay inbox:
1. Sign in to your Melio account.
2. Go to Pay in the left sidebar.
3. Select the bill you'd like to pay from the inbox.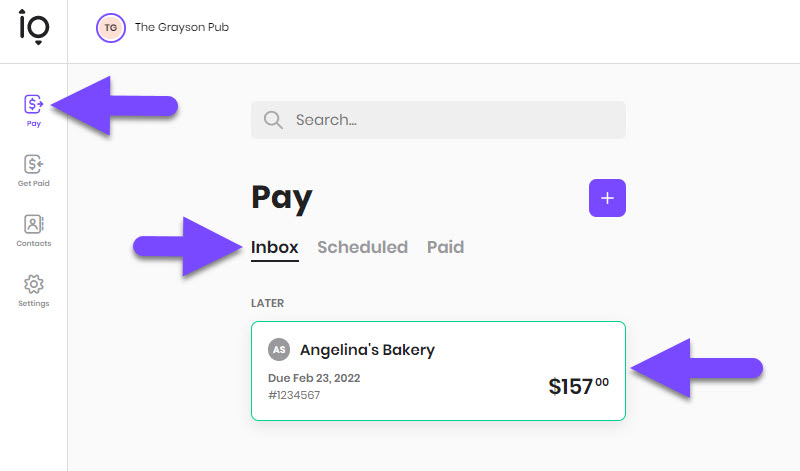 4. Click Schedule payment in the bill details section on the right.
5. Choose how you'd like to pay. Melio offers three payment methods: bank account (free), debit card (2.9% fee), or credit card (2.9% fee). Click Continue.
NOTE: Still need to connect a payment method?
6. Choose how your vendor will receive this payment:
A. Bank transfer (ACH) - takes 3 full business days to arrive. You'll need to fill in the vendor's routing number and bank account details.
B. Paper check - mailed to your vendor and takes approximately 7 business days to arrive. There is an option for a fast check that takes 3 business days to arrive (for a fee of $20). You'll need to fill in the vendor's business address.
NOTE: Paper check fee
For regular paper check delivery (not fast check), Melio mails a check to your vendor for a $1.50 fee.

The first two checks every month are

free

, and you can combine payments to a vendor with a single check. Learn more about Melio's check protection.
C. Ask vendor for payment details - if you don't know the vendor's information, select this option. Your vendor will be able to choose how to receive your payment and fill in the correct details.
D. International payment - you can also pay a vendor outside the US. This is how to make international payments with Melio.
7. Select when the payment will be deducted. Click Continue.
NOTE
:

What do the different markings mean?
The payment due date is circled for your convenience.

A suggested deduction date is highlighted purple but you can select another if you want.

At the bottom of the page is the estimated delivery date based on the payment and delivery methods, and deduction date you select.

Federal holiday dates will be blocked on the Melio calendar. When you try to select the date, it'll display Federal Bank Holiday.
8. You can leave a memo for your vendor. Click Continue.
NOTE
:

What to put in the memo?

The invoice number is set as the default. The memo appears in the email notification your vendor receives as well as printed on the check. When delivered via bank transfers (ACH), it appears if your vendor's bank enables memos.

Is your Melio account synced with QuickBooks online? The default includes both the account and invoice numbers in the format of Acct#number | Inv #number.
9. Carefully review the details in the Review & confirm page.
10. Click Confirm and schedule payment.
11. If this is your first payment, enter your legal business information.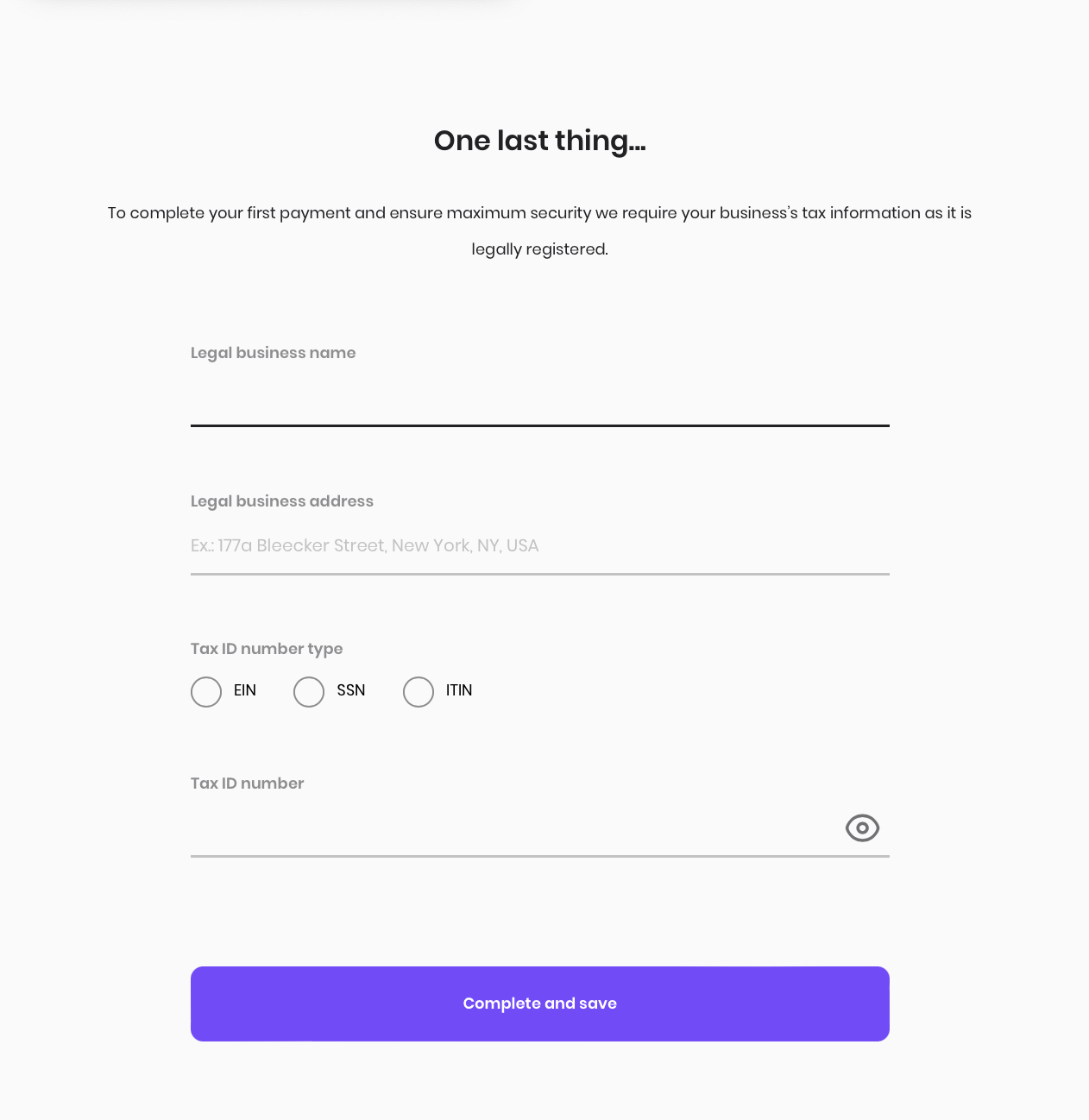 NOTE: Entering your legal business info.
This is only required for your first payment, to ensure compliance and security. We will not be able to process your payment without it.
12. Click Complete and save to finish the payment.
13. Your payment has been scheduled! Melio will send you an email with the payment details.
You can also notify your vendor that their payment is on the way.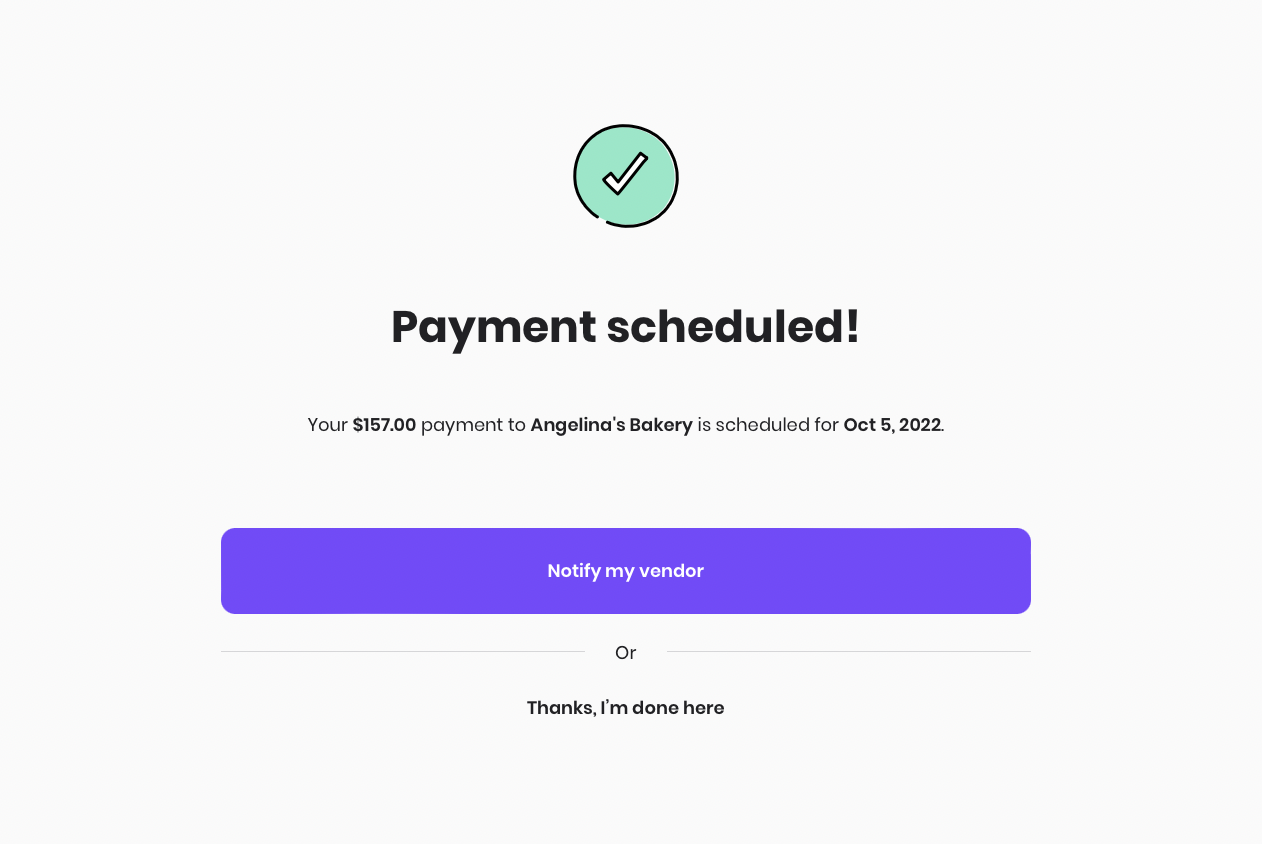 14. Your bill now appears under Scheduled in the Pay section of your dashboard.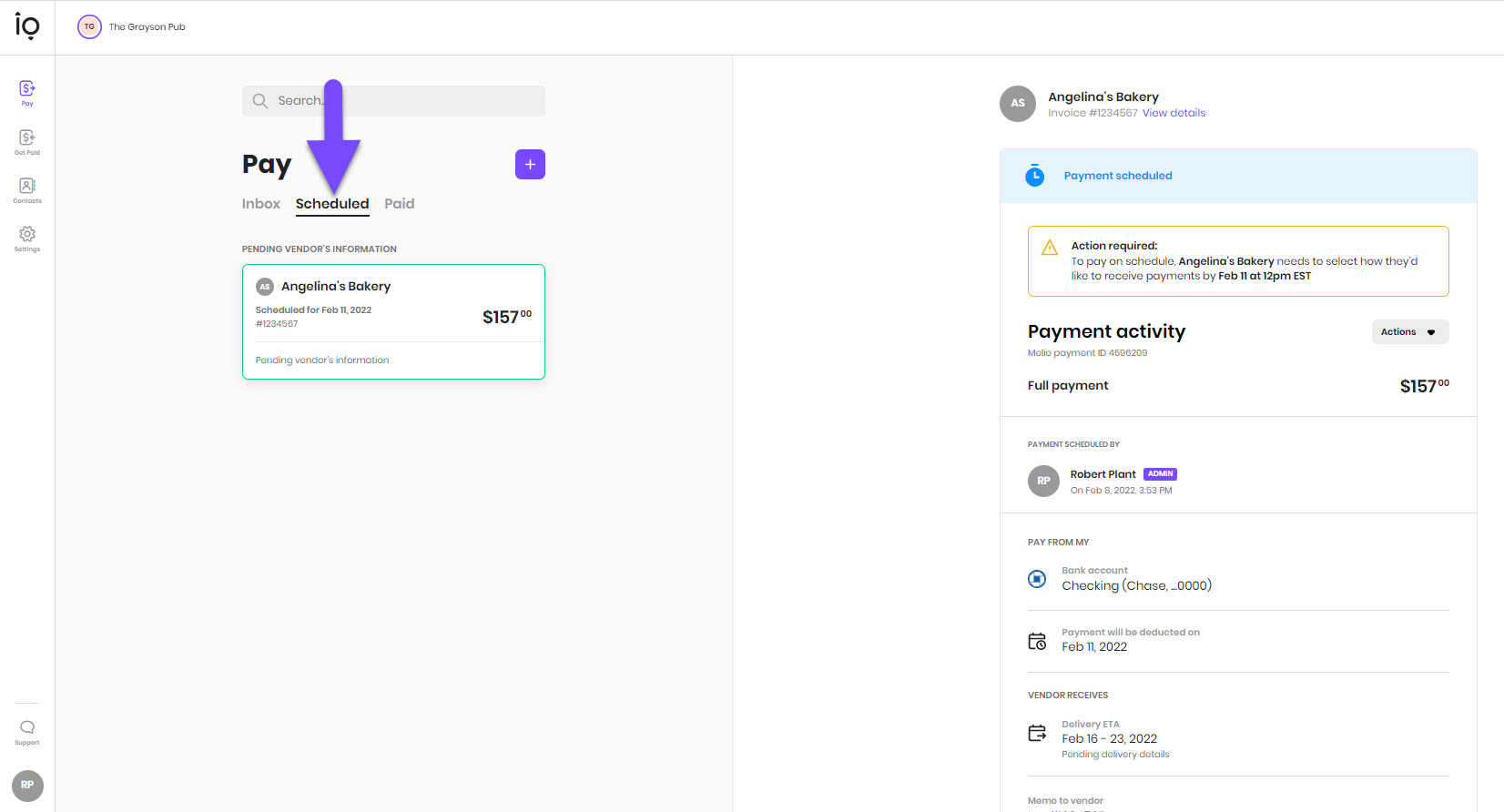 Paying a bill from your Contacts
1. Sign in to your Melio account.
2. Go to Contacts in the left sidebar.
3. Select the vendor you want to pay.
4. In Payments overview on the right, you'll see the vendor's balance.
A. OPEN BALANCE of 1 bill:
Click Pay unpaid bills and continue the payment process as described in step 5 (above).
B. OPEN BALANCE of 2 or more bills:
That's it! You'll be updated by email when payments are set and when they're processed. Your vendor will get an email notification when the payment is processed (you can also choose to notify a vendor once you've scheduled a payment).
Watch this video tutorial to see it in action:
*Subject to card network limitations.