Ensure your checks get to vendors on time with 3-day delivery.
Pay your vendors faster when using checks. Fast checks are sent in 3 days via FedEx, instead of USPS's regular delivery time of 5-7 days.
Commonly asked questions
Can I make a fast check payment?
Yes, you can! Whether you are paying with your bank account (ACH), credit card or debit card (at a 2.9% fee).
How can I make a faster check payment?
You'll have the option to make a fast check delivery when scheduling your payment deduction date:
1. Sign in to your Melio account.
2. Click Pay on the left sidebar.
3. Click the purple plus + on the top right and select + New payment.
4. Add a bill manually, upload a file or connect with your QuickBooks account.
5. Fill in the bill details and click Save and schedule a payment .
Uploaded a bill file or synced with QuickBooks? some or all of the details will be updated automatically.
6. Choose how you wish to pay- via ACH, credit card or debit card.
7. Select Paper check when asked how your vendor would like to receive the payment.
8. Fill in the vendor's name. This will appear on the check. Click Continue.
9. Fill in the vendor's mail address. Click Submit and add delivery method.
NOTE: Correct Zip code format
Input a 5-digit, unhyphenated zip code.
10. When selecting a date for your payment to be deducted, make sure to check the option to schedule a fast check delivery (at a $20 fee).
NOTE: Still need to connect or verify your bank account?
Your bank account must be connected and verified before making a payment. We will not deduct the funds and process the payment until it does.
You can always connect your online bank via Plaid for instant verification and three days delivery time. This is how to add and connect a bank account automatically.
Alternatively, connect and verify a bank account with micro-deposits.
11. Leave a memo to your vendor.
NOTE: What to put in the memo?
The invoice number is set as the default. The memo is printed on the check. Read this article to learn what the check looks like.
Is your Melio account synced with QuickBooks online? The default includes both the account and invoice numbers in the format of Acct#number | Inv #number.
12. The last step is to confirm and schedule the payment after carefully reviewing the details in the Review & confirm page. Click Confirm and schedule payment to complete the process.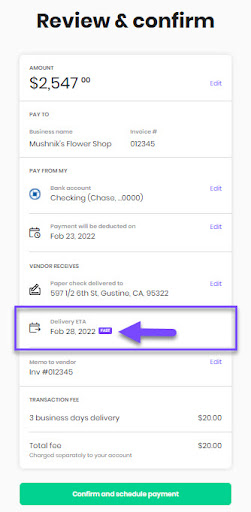 That's it! The Melio team will send you an email summarizing the details of this payment. You can notify your vendor that their payment is on the way.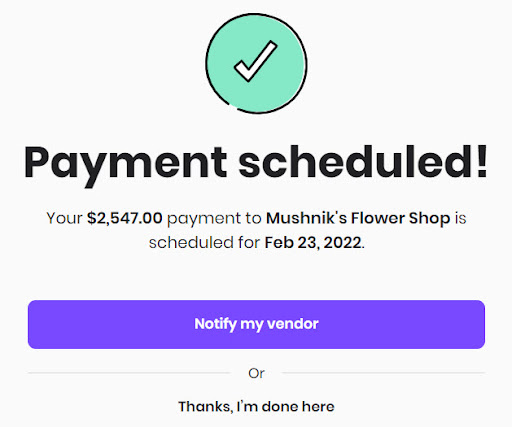 Can I track the status of my fast check payment?
Yes you can. In order to track your payment you'll need FedEx's tracking number. We will have access to the tracking information the day before the delivery date.
Contact support via chat the day before the delivery date you requested and we will provide you with FedEx's tracking number.
NOTE: Support's response time
Response time may be up to 48 hours as we receive the information from FedEx's system.
Why can't I see the fast check option?
There can be a number of reasons why the fast check option is not available for your payment:
Payor's business is based in Texas.

Your legal details are missing.

It's a recurring payment.

The check address is a PO Box.