Use your online bank login details to connect your account to Melio.
Overview:
Before making or receiving payments to your bank account, you'll first need to link one (or as many as you'd like). Connecting a bank account takes 1-2 minutes and you'll only need to do it once.
There are two ways to do it:
Connect instantly via Plaid - this is the fastest and easiest way! All you need is your online banking credentials.

Connect manually and verify with deposits.
How to add your bank account
There are two ways to add a bank account automatically:
After adding the account, the procedure to connect your bank account to Melio is the same.
Add bank account when making a payment
The simplest way to connect your bank account is when you make your first payment.
Select/upload a bill to pay.

Choose Bank Account when asked how you want to pay.
Add bank account in settings
Go to Settings and select Payment Methods.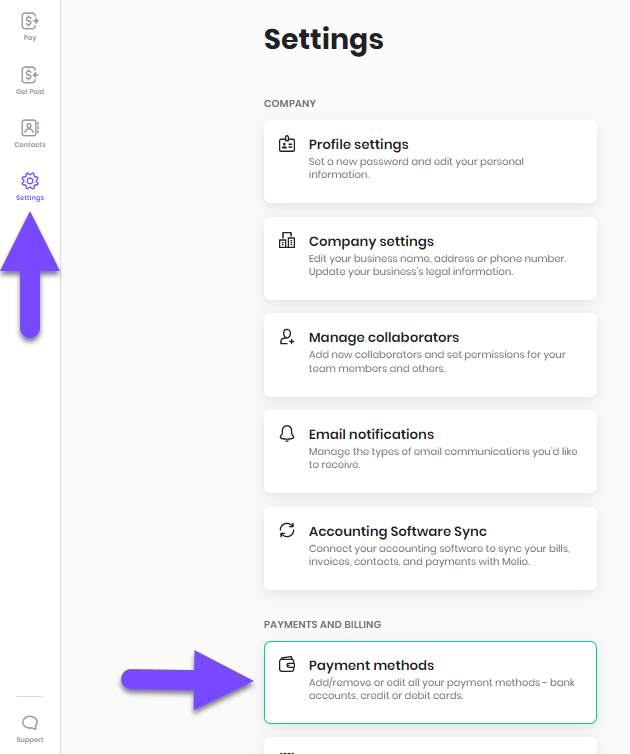 2. In the Bank account section click Add this method.
Connect you bank account automatically
However you add your bank account, follow these steps to connect it to Melio:
1.Choose Connect Instantly when asked to connect your bank account.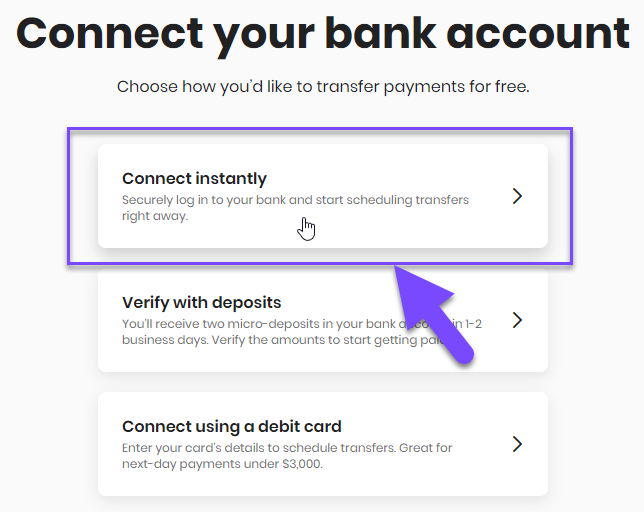 2. Click Continue to allow Plaid to link your bank.
3. Choose your bank from the list. Plaid is connected to the top 100 banks in the US.
4. Can't find your bank? You'll need to manually connect your bank account.
To do it:
a. Click the back arrow to go back to the Connect your bank account menu.
b. Select Verified with Deposits.
c. Follow the two micro-deposits verification process (find out more in our How to verify a bank account with micro-deposits article).
NOTE: You won't be able to make or receive payments until your bank account is verified.
5. Fill in your bank account login credentials and click Submit.
6. Your bank account is connected successfully and you can start paying your bills.
IMPORTANT NOTE:
One last thing, make sure to make Melio an authorized debtor by adding it to your bank account's whitelist. Provide your bank with our originator ID codes before making payments through Melio. You'll only need to do this once.
Here are Melio's originator ID codes:
1320565847

1294287528

1061273133