The Partial Payments feature gives you more flexibility in how you choose to pay vendors. It allows you to divide a single invoice into several payments and use different methods at various stages of the payment.
When you schedule a partial payment, Melio will track and display the remaining balance.
How to make partial payments with Melio:
Log in to Melio and go to the Pay section.

Choose the relevant payment from your Inbox and click Schedule Payment.

Click the pencil icon that appears next to the open balance and type the amount you'd like to pay.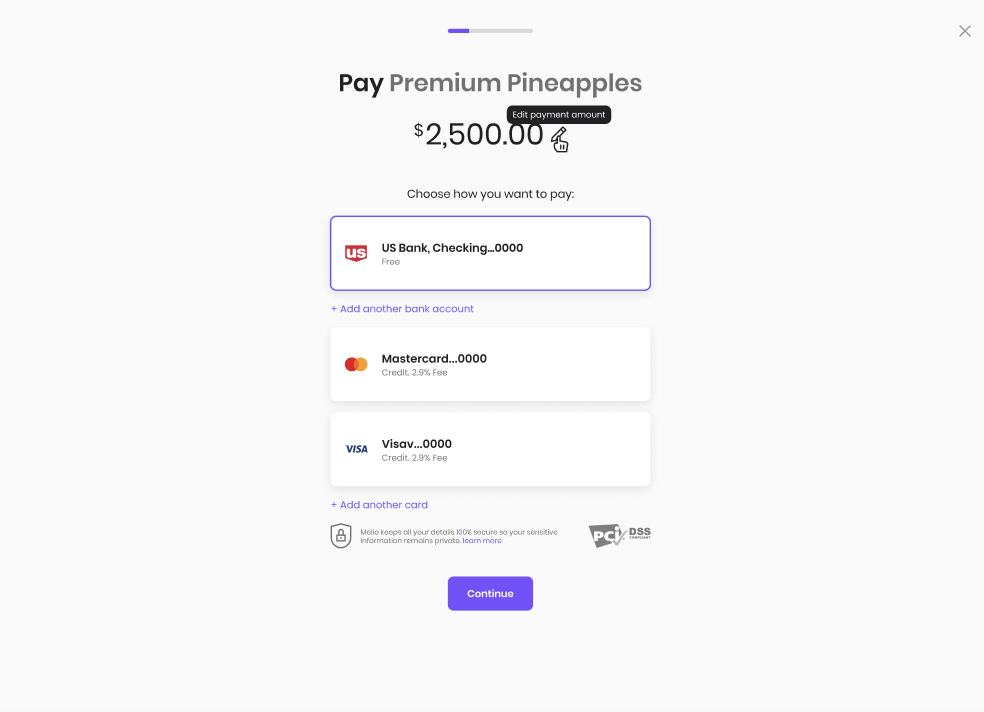 4. Choose your payment method and click Continue.
5. Choose how you want us to send the payment to your vendor - via ACH transfer or paper check.
6. Fill in the relevant delivery information and click Continue.
7. Choose when you want the funds to be deducted from your account. The estimated delivery date will appear below.
8. When you're done, click Continue.
9. Leave a note for your vendor and click Continue.
10. Review the details and edit as necessary.
11. When you're done, click Confirm and Schedule Payment.
12. To view your open balances, go back to the Inbox tab. Partially paid invoices will be marked.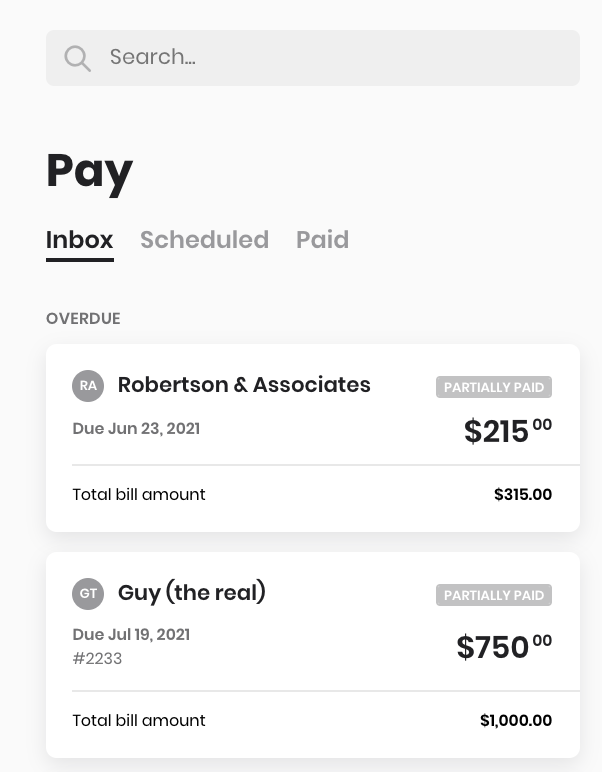 13. Partial payments will appear in the Scheduled or Paid tabs according to their stage.
14. When the open balance of a particular bill reaches $0 it will automatically be removed from the Inbox tab. The various payments associated with that bill will appear in the Scheduled or Paid tabs and will be labeled according to their stage. In the Paid tab, partial payments pertaining to the same bill will appear as stacks. You can click a stack to view the individual payments.
15. You can click on each stack to see a complete breakdown of the partial payments it's comprised of.
IMPORTANT NOTE: You can't partially pay bills that were created before Aug. 31, 2021 and synced from QuickBooks.