If you don't have your vendor's ACH details or mailing address, don't worry! Melio helps you request them easily and securely
When asked to select how your vendor receives payment, you might not have their information (ACH details or check delivery address). That's Okay.
Melio makes it easy to ask your vendor for their payment details as part of the payment workflow, or you can send the request from the contact management section in your settings.
From the Contacts menu:
1. Go to Contacts (if you're not using this link - make sure you're in the vendors section)
2. On the left side of the screen, select the vendor whose payment details you'd like to request.
3. On the right side - scroll down to "Delivery Methods" and next to "Ask vendor for payment details" where you should click the "Send request" button.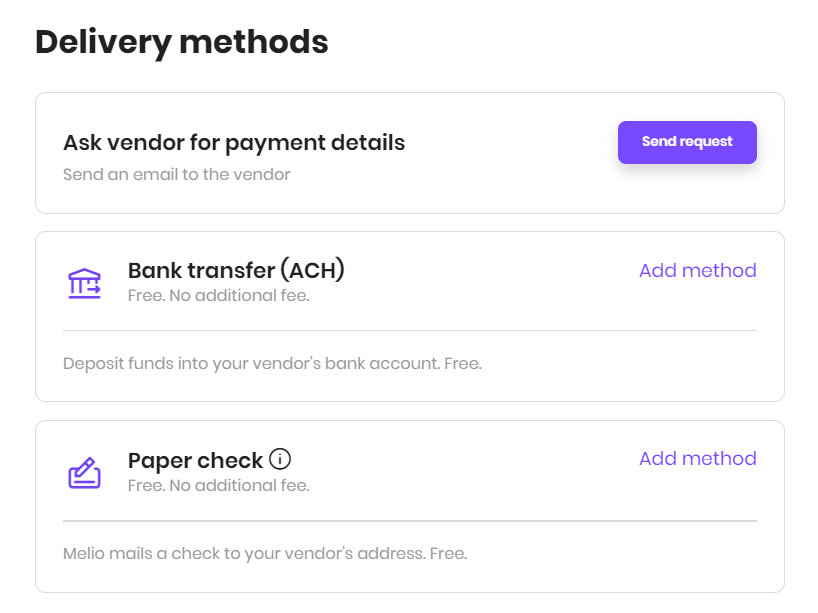 This will send the request to your vendor. To see what they receive, see this article.
From the payment flow:
When you've reached the question "how would your vendor like to receive the funds?" click the button at the bottom of the payment options.
In both methods, once you enter and submit your vendor's email address, they'll receive a message with instructions on how to securely receive the funds. The message will include your details so they easily recognize who it's from. Learn more about what your vendor sees when you ask them to fill out their payment information.
How will this affect delivery time?
Payment delivery time depends on when your vendor fills out their details. Once they do, you'll receive an email notification with an estimated time of delivery, which is usually 5-7 days for a check and 3-4 days for ACH.
NOTE: Payments are only processed once a day before 11:30am EST. Any payments submitted after this time will be initiated and start on the following business day.
When submitting a payment to a vendor for the first time, we may need a bit extra time to review the payment. Schedule these in advance to avoid any delays.
Learn more about our times of delivery.
Does the payment details request link ever expire?
The link remains valid for 7 business days. If your vendor does not send their details, the payment will be canceled and your bill will be moved back into your inbox. You will receive notification via email.
The button is missing! Why can't I see the option to request details?
It's possible you don't have this option because you have not yet verified the bank account from which you're trying to make the payment. You can either enter your account manually and verify with micro-deposits or just log in to your online bank to instantly connect and verify.
What if I've previously made a payment to the vendor, and already filled out the payment details?
No worries! you can still send them a request to choose how they'd like to get paid in two ways:
1. When scheduling a new payment
In the "Review & Confirm" page, which is the final step in the payment flow, you'll be able to click "Edit" and receive the option to send the request: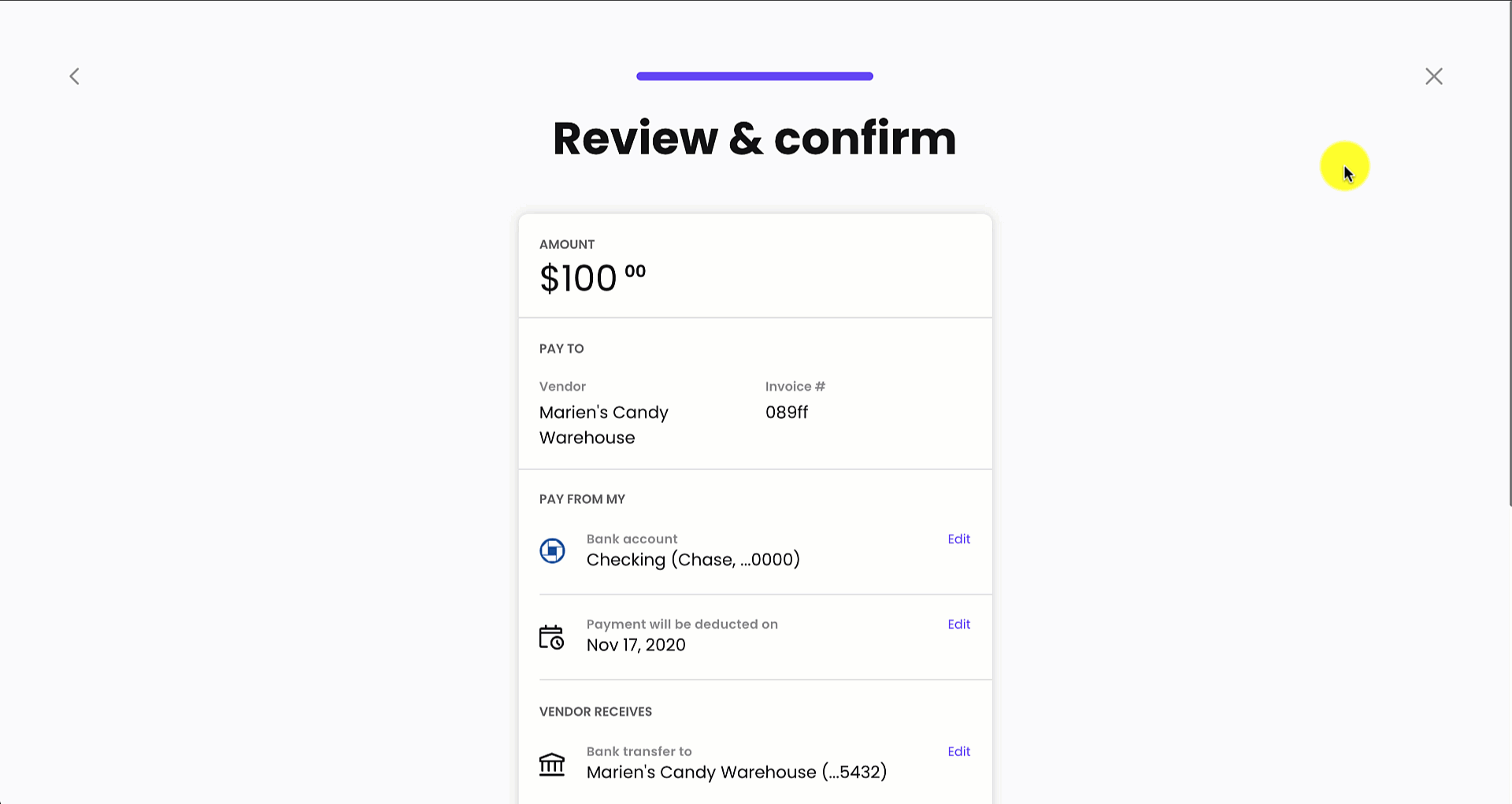 2. When editing a payment that's already been scheduled
You can click "Edit" in the menu on the top right, and send a request from there:
That's it! As always, if you have any questions, reach out to our support team at support@meliopayments.com.