Create a customized URL, send a payment request and get paid faster for free.
Melio enables businesses to request and receive payments from other businesses quickly and easily for free. Creating a custom and secure pay-page takes only a few minutes.
Your customers can schedule a payment for any invoice with bank transfers (ACH) for free and credit cards* (2.9% fee), in just a few clicks. All payments are quickly deposited directly to your bank account. Melio is completely free for you to receive all payments regardless of how they're paid.
When you send a specific payment request, you can track whether it's been opened, scheduled or paid.
👉 How to get started with Melio
1. Sign up
Setting up your Melio account is free, simple and easy. Just follow the instructions here.
2. Set up a Melio link
Now that you're signed up, you can create your own Melio link to share with your customers:
Make sure you've selected the Get Paid tab in the sidebar.

Click Start getting paid.
3. Choose a unique Melio URL for your page.
4. Customize your page with a logo.
5. Enter your company's legal details.
6. Connect your bank account.
You can connect your bank account instantly using Plaid, here's how.
Or you can add your bank account manually and verify it with micro-deposits. Follow this article to learn how.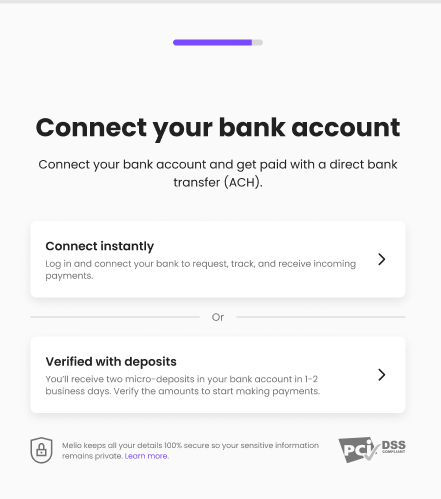 7. Choose who will pay the 2.9% fee for payment with a credit card.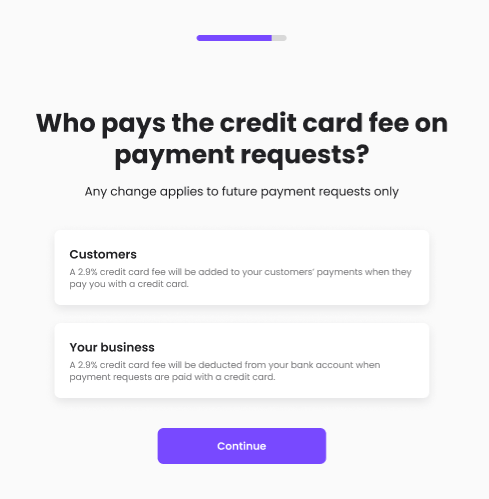 8. Share your link with your customers or start creating and sending payment requests.
👉 Upload invoices and create a payment request
In addition to using your business's Melio link to collect payments, you can create payment requests from invoices with the amount and other details pre-filled to share with your customers.
IMPORTANT NOTE: We recommend you send a payment request in preference to your Melio link. Payment requests have some prominent advantages:
a. Includes the correct details of a specific invoice which the customer can't change.
b. Each time you send an invoice from the dashboard you'll also send a trackable and personal payment link with the invoice details. You can know when the request was opened/seen by the customer, if the payment was scheduled and send reminders to pay. See the timeline feature to learn more.
c. You can know exactly which invoices were sent and manage the collection process more efficiently.
To create your payment request follow these steps:
Go to the Get Paid tab in the sidebar.

Your first time or if you already sent all your invoices, the table will be empty and a button will invite you to add invoices. Click Start getting paid.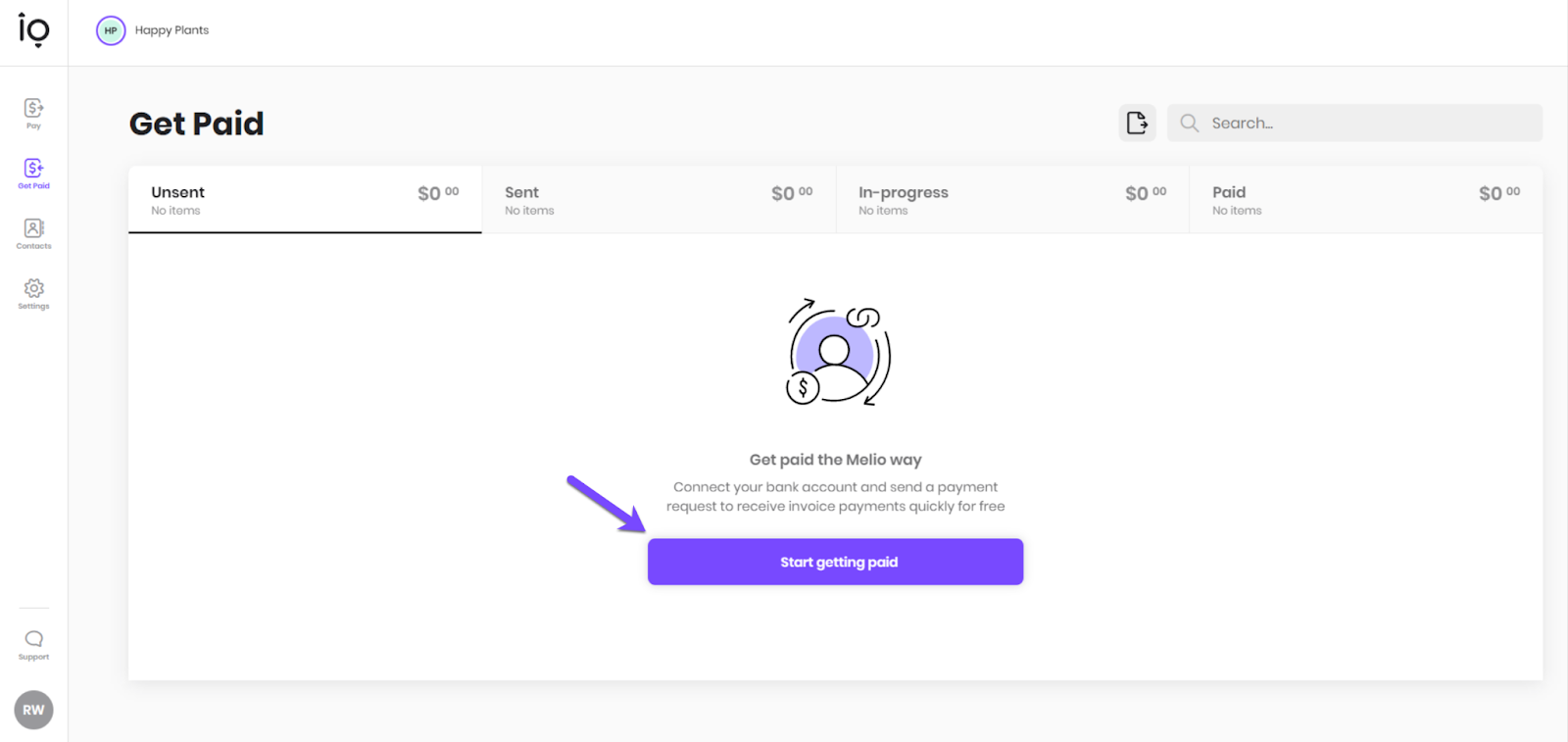 3. Choose how to add an invoice.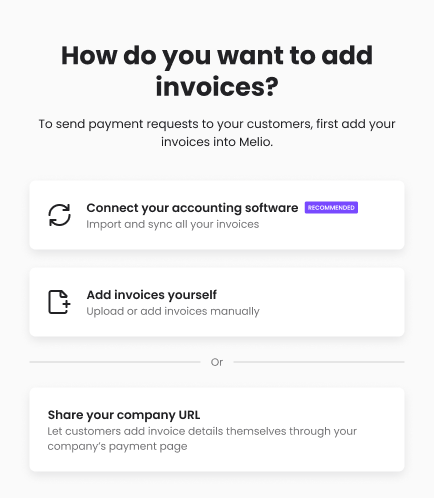 You have two options to adding invoices:
a. Connect to your accounting software. Currently Melio supports A/R sync with three softwares:
NOTE: We recommend creating invoices in your accounting software and then sync it with your Melio account. It is not possible to upload invoices to Melio and sync them to your accounting software. Invoices that are synced from your accounting software will be marked with a link sign next to the number.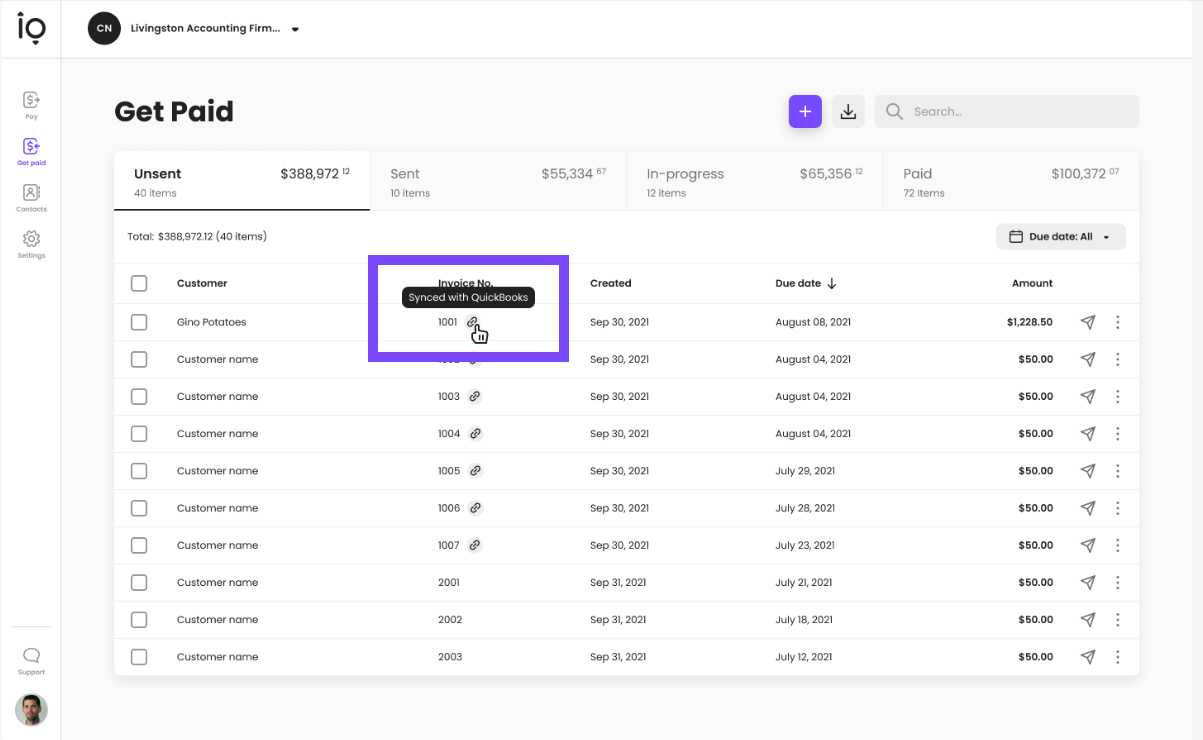 b. Add manually or upload invoices. You can upload a single invoice or a list of invoices, learn here how to bulk import invoices.
Alternatively, you can send your Melio payment link and allow your customer to add the invoices they wish to pay.
4. All there is to do now is to send your customer the payment request. Enter your customer's email address and add a note if you wish.
You can also share the payment request's link with your customer in whichever way you choose.
Here's what an example Melio payment request looks like:
👉 Get paid by your customers
You'll get a notification when your payment has arrived, along with payment details.
To view the payment request from your customers point of view, read the article What will my customers see when I send a payment request?
👉 Tracking your payment request
Go to Get Paid dashboard by clicking the Get Paid tab on the sidebar to the left.

Find your desired invoice in one of the tabs: Unsent, Sent, In-progress or Paid. Read our Get to know the Get Paid dashboard to learn more about the different tabs.

You can see the details and journey of every invoice by clicking the relevant line. To learn more about the timeline read this article.
Any questions? You can reach us at support@meliopayments.com
*Subject to card network limitations