Managing several business accounts from Melio is not only possible - but super simple!
If you're managing the payables and receivables for multiple companies, you can turn on Melio's multi-company dashboard to manage all your companies from the same interface with one simple login, saving you valuable time spent logging in and out of your accounts, providing an overview of all of your businesses' payments at a glance.
How to enable the multi-company dashboard:
Go to your "Settings" and select "Profile Settings"

Scroll down to "Multi-company dashboard" and use the toggle button to activate the dashboard.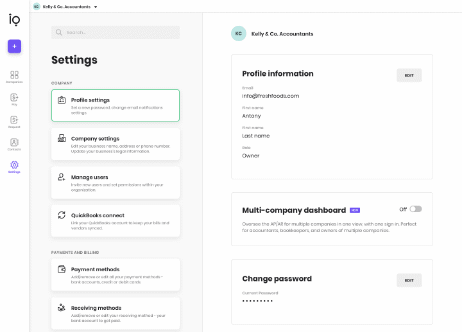 3. Once enabled, a "Companies" section will appear in the left side navigation bar
Note that once one of the companies in your dashboard has active payments, turning off the multi-company dashboard feature is disabled. If you'd like to turn this option off after adding companies, please reach out to our support team here.
Once you've enabled the dashboard, you can start adding accounts:
Adding NEW Melio accounts:
(If you currently don't have other accounts)
1. In your dashboard - click "+ NEW COMPANY"
2. Follow the steps to fill in the details: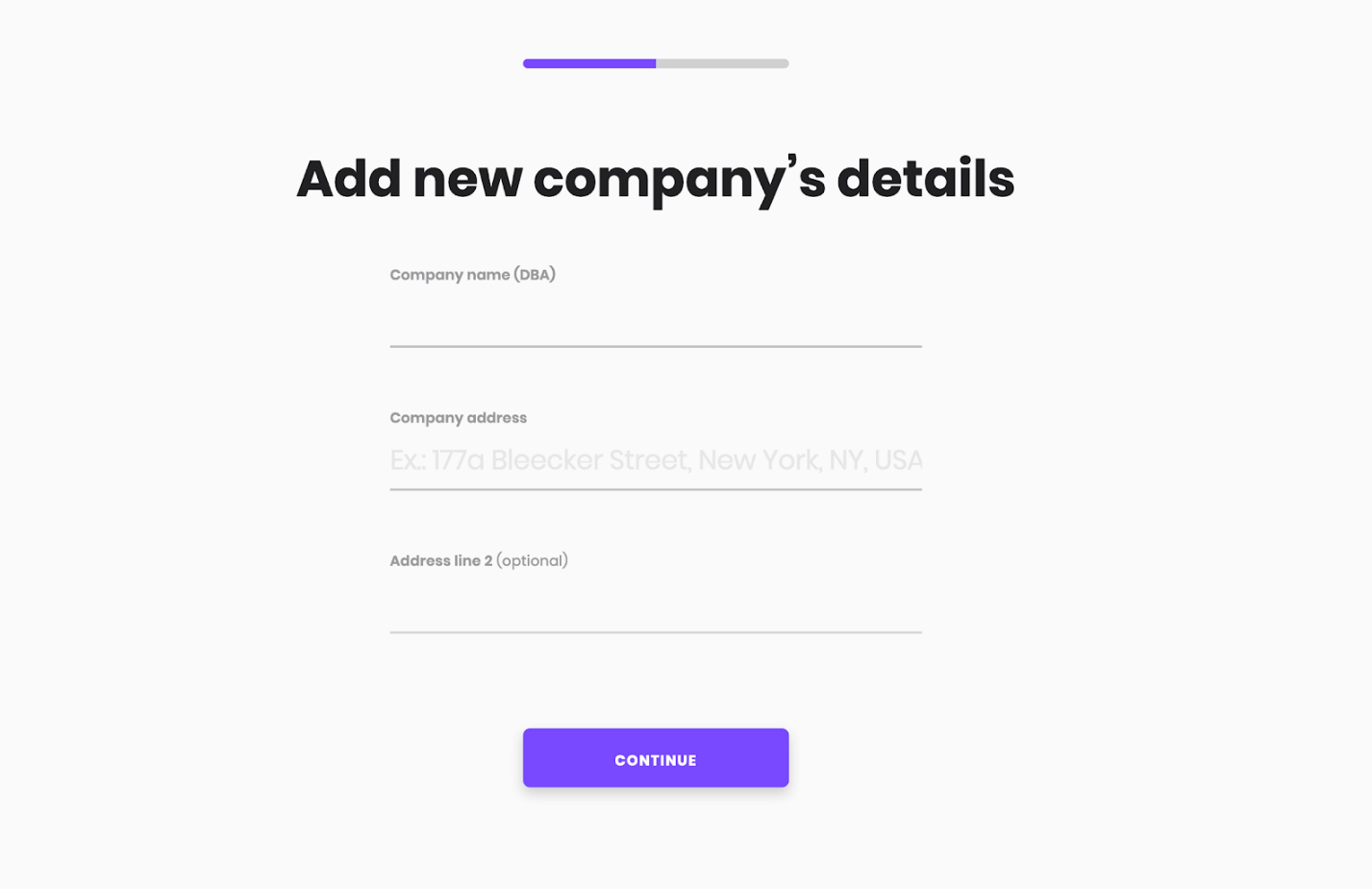 3. State if you're the owner of the account:
3a. If you ARE the account owner, continue to review and verify your details.
Once completed, the account will be added to your dashboard, and your role in the Melio account will be Owner.
3b. If you are NOT the account owner: fill in the details of the owner, we'll invite them to join.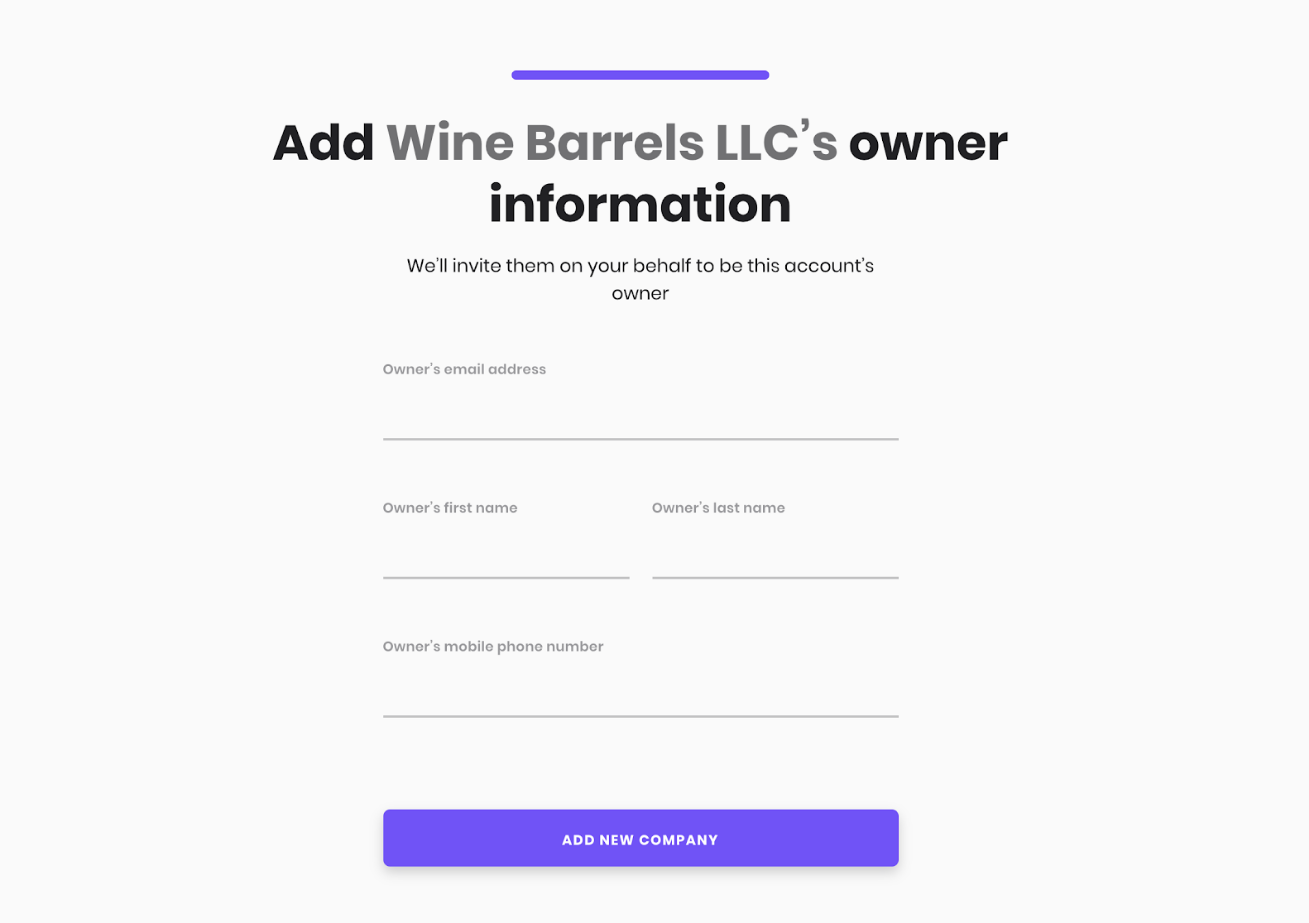 Once you invite the account owner - your Melio account role would be Admin (learn more about user roles in Melio)
Adding EXISTING Melio accounts:
(If you already manage several existing Melio accounts)
If you're already managing multiple accounts using several different email addresses in Melio, this will allow you to see all the companies you manage with one simple sign-in, so you no longer have to log in and out of accounts to manage all your companies' payables.
There are 2 ways to add EXISTING companies to your Dashboard:
A - Through the "Add company" button:
1. Follow the steps as if you were adding a new account
2. When asked if you are the owner of the account, mark 'No'
3. Melio will recognize your email address and send an email to your existing account's email address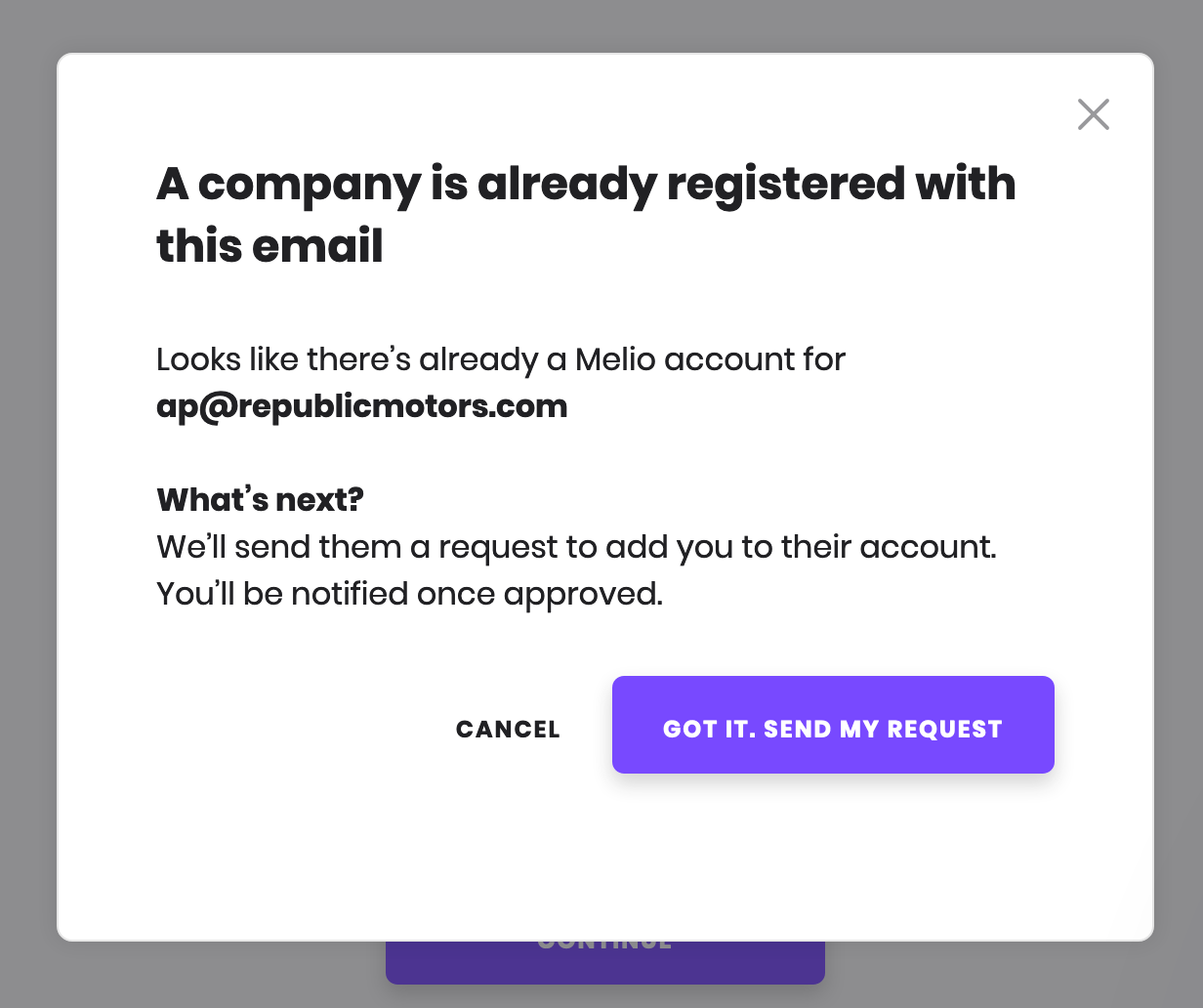 4. You will be able to approve the request, and the account will appear in your dashboard.
B - By selecting a primary account you wish to have the dashboard, and inviting the email you used in that to all other accounts:
1. Log in to what you'd like to make your primary account - this will be your one login for Melio once you've completed the following steps.
2. Turn on the dashboard option as described above
(make sure you're in the account you'd like to make your primary one!)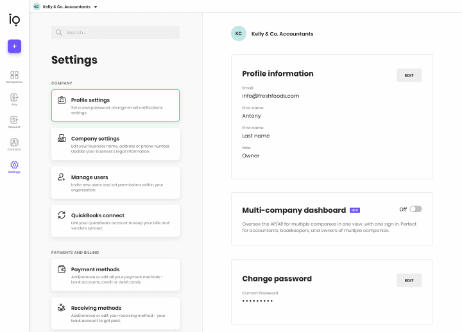 3. After turning on the dashboard, Log out of your primary account.
4. Log in to one of your additional accounts (the account of one of the companies you'd like to see in your dashboard, currently with a different email login)
5. Go to Settings -> Manage users and click the Invite User button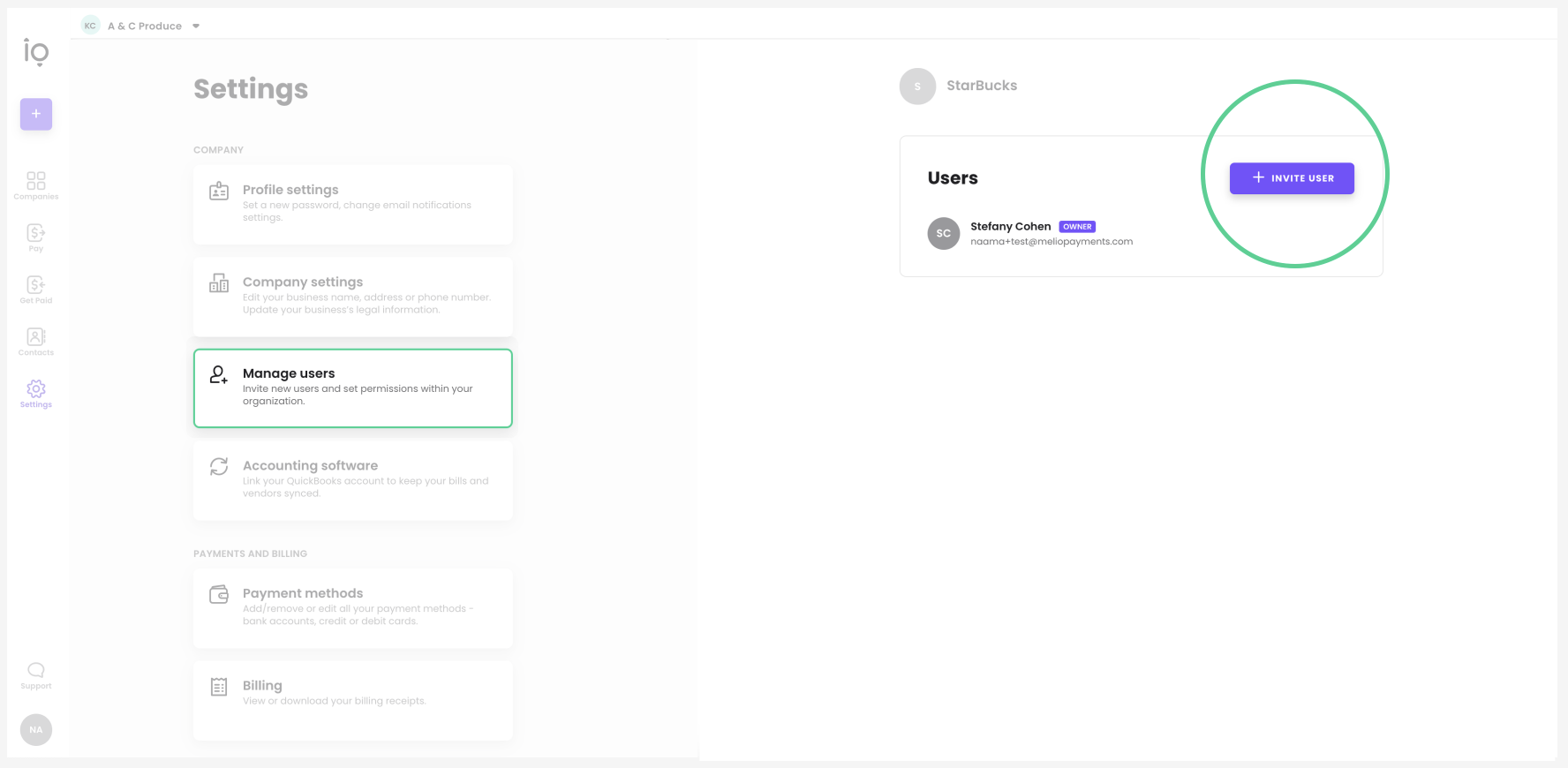 6. Invite the user of your primary account (meaning: the first email you logged in with, of the account that has the dashboard turned on) and join as Admin.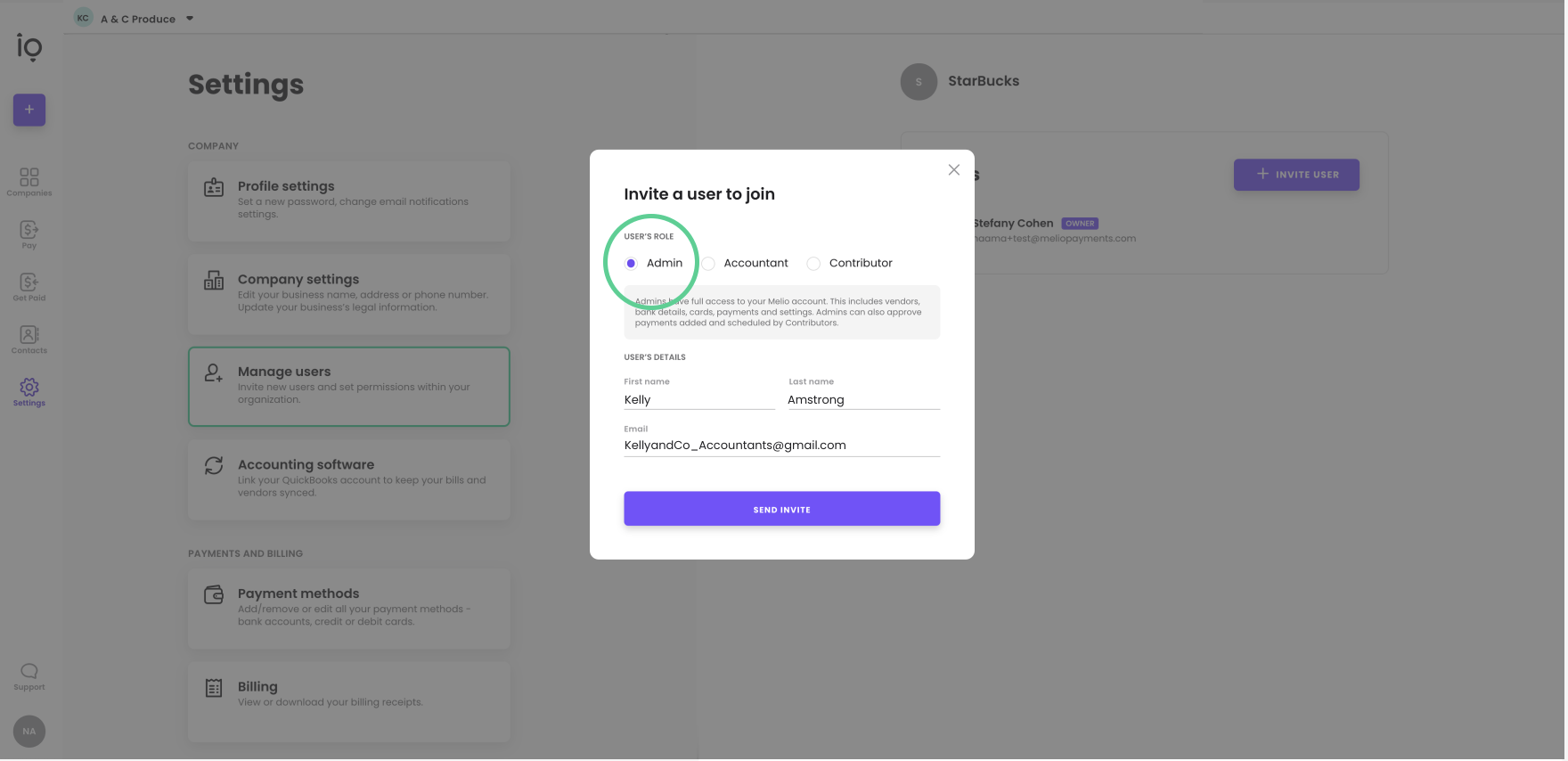 7. All you have to do is accept the invitation and log in again with your primary account.
Once you accept the invitation to join with your primary email, this organization will appear in your Melio Companies Dashboard.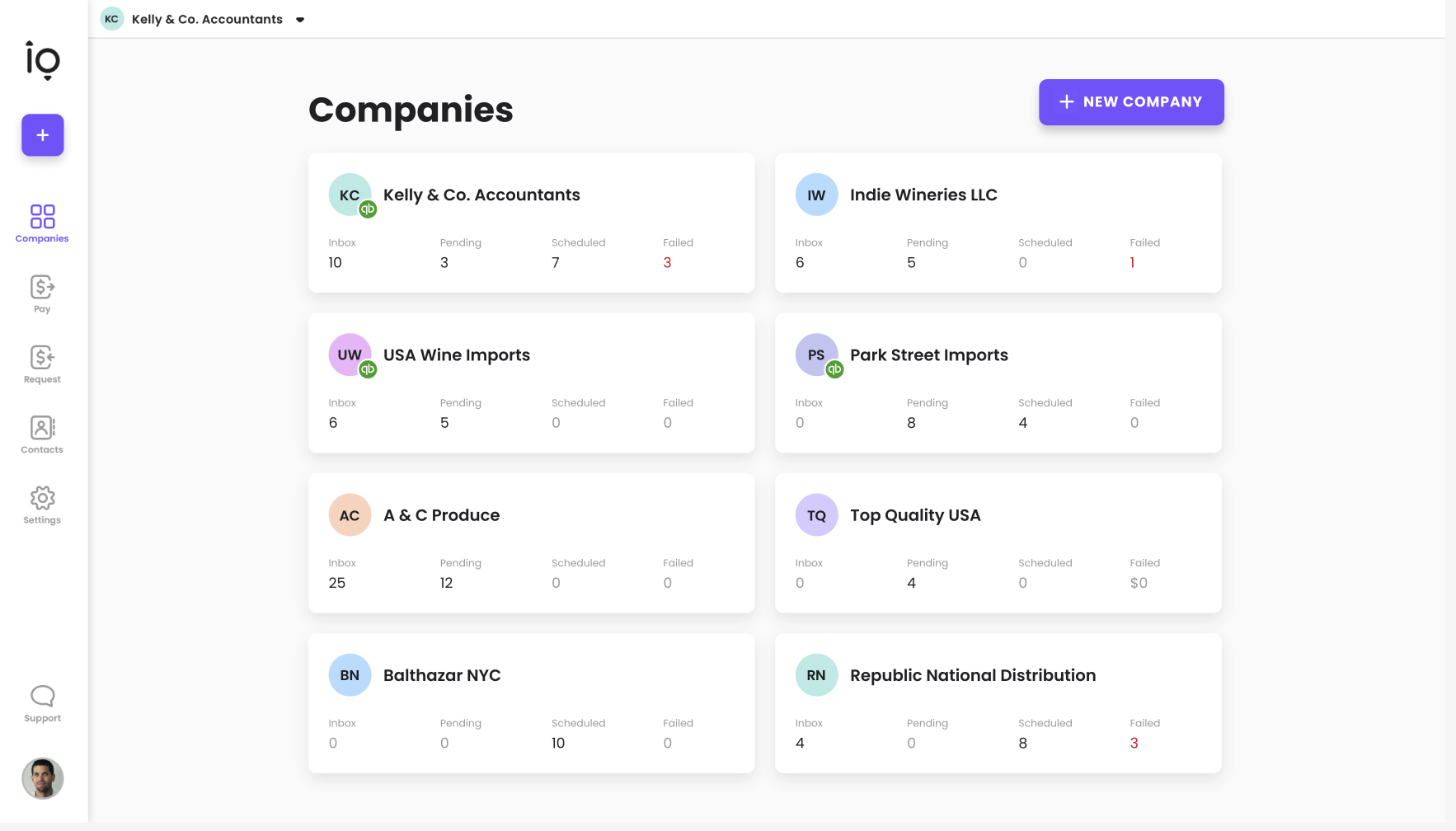 If you have questions or need assistance with any of the above, please don't hesitate to contact us here.