See what the paper check delivered on your behalf looks like.
With Melio you can pay your bills by bank transfer or credit card*, and have your vendors receive a paper check on your behalf (or an ACH bank transfer).
A paper check will arrive in the mail to the address you specified in approximately 7 business days. There is also a fast check option that is delivered within 3 business days (for a fixed $20 fee).
When the check has been deposited, you'll be notified by email.
Tip: Notify your vendor before the payment arrives
Let your vendor know that you made a check payment. Here are two ways to do it:
1. In the Leave a memo for your vendor section, after selecting payment deduction date, enter your vendor's email address in the specified field.
2. At the end of the bill payment process, click Notify my vendor and enter their email.
Here's an example of the paper check your vendor will get: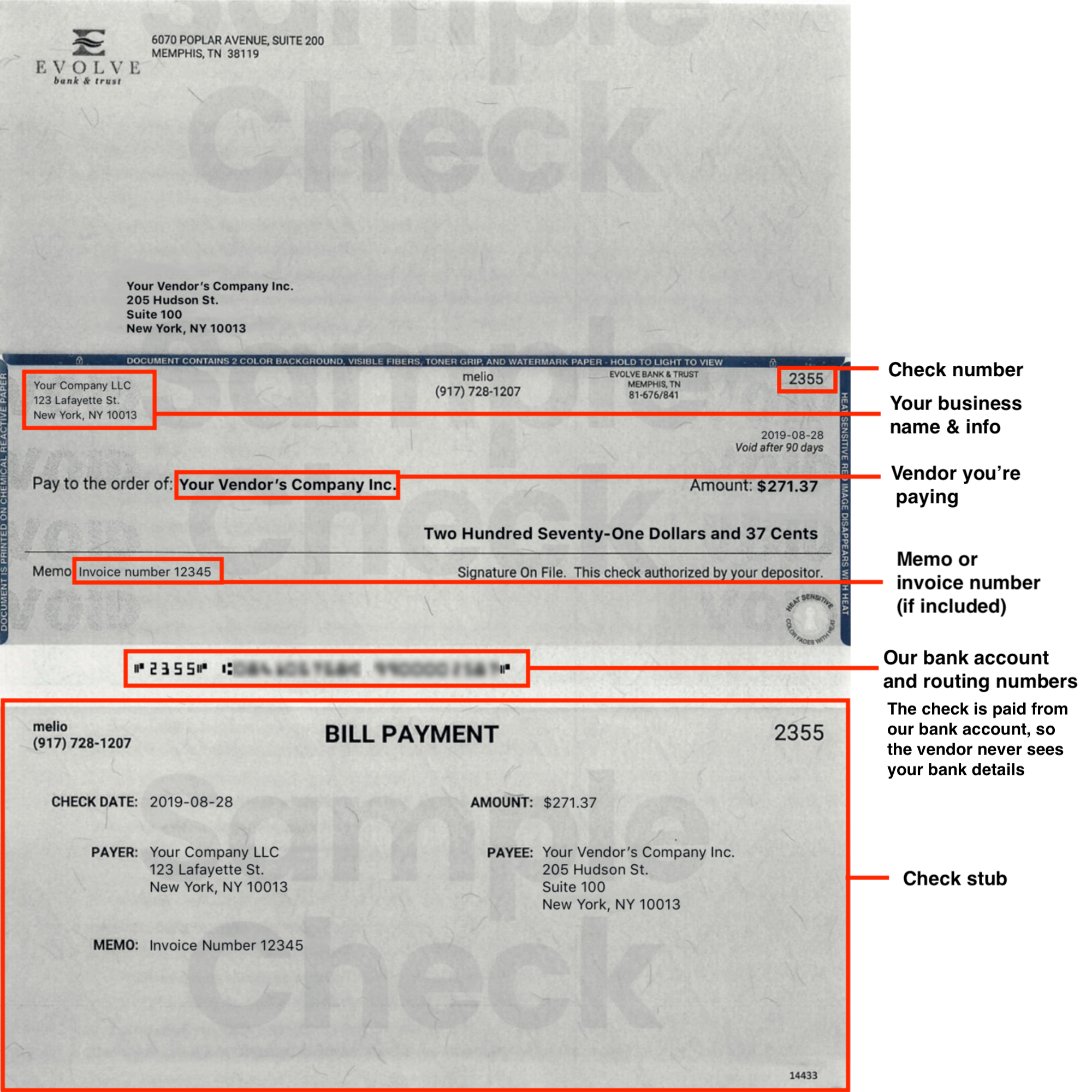 Leave a memo to the vendor to help reconcile your payment
We recommend leaving a memo for your vendor. It appears in the memo field on the check.
NOTE: What to put in the memo
Adding the invoice number is the best way to simplify the remittance process. It's copied from the bill and set as the default text in this section.
Is your Melio account synced with QuickBooks Online? The default text in the memo section includes both the account and invoice numbers in this format: Acct#number | Inv #number.
Depositing checks
When vendors receive their checks they can deposit them at the bank, just like any other paper check. They can also use a bank's mobile deposit feature for an easier deposit.
Check expiration
All the checks have the inscription "Void after 90 days" printed on them. On the 91st day from the date of issue, the check will expire.
*Subject to card network limitations.